Discover more from Midlife Strong
Unlock the secrets to robust health with a weekly newsletter designed for midlife women, curated by a leading dietitian.
Over 1,000 subscribers
How skin changes at midlife (and what you can do about it)
Why we should all be protective of our protective barrier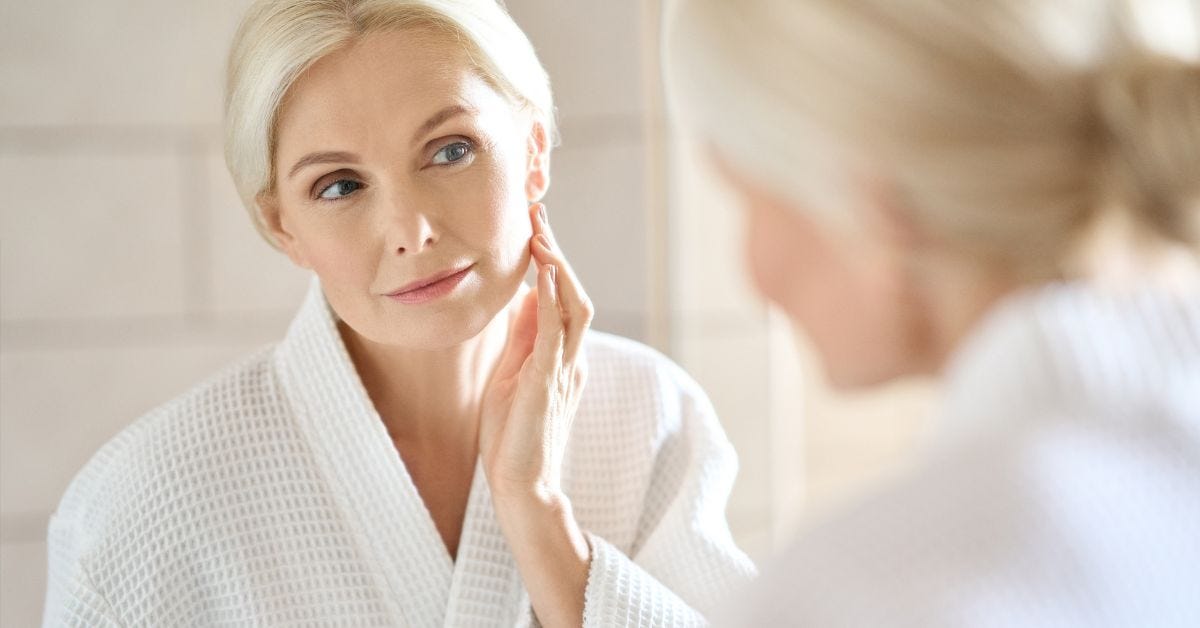 You don't need me to tell you that skin changes at midlife. I wasn't planning on writing about skin just yet, but then I received this question from a member of my private Facebook community:
I am experiencing acne rosacea (started 12 years ago when I was pregnant: never went away and is worse each year) and now really bad eczema on my hands and back of my head! I am wondering if autoimmune based or hormone induced as I went from flawless skin to perpetual acne rosacea when pregnant. I am currently 47 years old and know these issues can occur at midlife.
Although I'm not a skin expert, I wanted to share what I've learned about skin changes during midlife, underlying causes that could be missed, and some up-and-coming-products that might interest you.
The Integumentary System
Skin is part of the integumentary system, which also includes hair, nails and sweat. As your body's largest organ, the skin is the protective layer preventing harmful substances from entering.
Skin is made up of three layers: the epidermis (upper layer), dermis (mid layer) and subcutaneous (bottom layer). The thick outer layer epidermis replaces its cells every 28 days which is why cuts heal fast. With plenty of nerves and blood vessels, the mid layer dermis nurtures the epidermis.
The dermis has collagen for skin strength, elastin for skin stretch, sweat glands for perspiration, and oil producing glands for skin and hair lubrication.
Changes to skin at midlife can either be structural (barrier breakdown, dryness/oily), inflammatory, (redness, itching etc.) or a combination. Let's start with structural changes.
Structural skin changes at midlife
Structural changes account for the loss or breakdown of collagen, elastin, and other proteins in the dermis.
Most of the structural changes to skin are due to ultraviolet radiation exposure also called "photo-aging" plus chronological aging, which includes environmental exposure like pollution and smoking. As we age, we also lose the natural amount of hyaluronic acid in our skin, which increases moisture and hydration.
People with darker skin and more pigmentation have a thicker and more compact dermis, slowing structural breakdown with aging. For instance, Asians develop wrinkles 10 years later than French women.
At midlife, signs of skin aging become more apparent. This is about the time hormones like estrogen fluctuate and eventually decline.
Estrogen binds to receptors in the skin, helping to maintain moisture, collagen, and elastin, thus plumping the skin. So, after menopause as estrogen declines, so does collagen by about one third after 5 years or 2.1% per year.
The oil producing sebaceous glands can increase or decrease depending on androgen levels. 
A high estrogen to testosterone ratio can decrease sebum, causing dryness, but a low estrogen to testosterone ratio can increase sebum, causing acne flare ups. It's important to note that there is no sebum in the hands or feet, so those are places that may be especially dry.
In fact, this is a reason that doctors often give young women with acne oral contraceptives. The high estrogen helps balance out the testosterone to help with acne.  
Inflammatory skin conditions
Issues skin can go beyond structural changes and be autoimmune and inflammatory. Meaning the immune system gets revved up, causing various skin symptoms. Because the original question was about rosacea, I'll start there.
Rosacea is a chronic inflammatory condition that occurs more frequently in fair-skinned people from the age of 30-60. Symptoms can cause redness and bumps and typically occur on the face.
Research suggests that female sex hormones can increase the risk of rosacea, especially during pregnancy. In one large cohort of 86,873 white women, the onset of rosacea was more common among premenstrual women than menopausal women. Risk of rosacea increased with menopausal hormone therapy and number of pregnancies.
Pregnancy can increase the risk of autoimmune disease. I was diagnosed with ulcerative colitis during my second pregnancy, that thankfully is in remission. The reason for this is unclear. It could be due to a weakened immune system, subclinical nutrient deficiencies, or sensitivity to high levels of hormones.
Rosacea is unique because of its link to systemic inflammation. For instance, people with rosacea are more likely to have dyslipidemia (high cholesterol, triglycerides etc), hypertension and heart disease. This is not a causal relationship, but important to consider.
Skin conditions linked to menopause
Once women have transitioned to menopause, they often experience skin issues related to low estrogen.
In one study, 64% of menopausal women at a clinic had one or more of the following complaints: itchy skin, excessive sweating, dryness, eczema, and poor wound healing.
According to a large observational study, eczema or "atopic dermatitis" was the most common complaint during the menopause transition. One potential reason is the structural changes talked about earlier leaves skin more vulnerable.
Any skin changes call for an evaluation from a dermatologist. But let's touch on some other less-talked about factors. I have a few ideas on how women can do their due diligence!
Monitor biomarkers
Like anything in midlife, it's easy to blame hormones, but sometimes it's not hormones. Or its hormones that influence other bodily functions that cause problems. This is where tracking biomarkers can give you clues, starting with your thyroid function.
Because thyroid hormones help with skin barrier formation, an underactive thyroid can hinder it. The most common symptom associated with hypothyroid is dry and scaly skin, especially of the hands and feet. It can also be a cause of hair loss, and dry scalp and hair. And one study found rosacea to be more common in those with thyroid dysfunction.
Iron deficiency promotes allergies through increased mast cell activation. Mast cells are cells responsible for allergic reactions, including allergic atopy. 
Iron deficient women have 66% higher risk of allergies. Vitamin A and D may also play a role. In fact, emerging research shows micronutrient supplementation that includes iron may be feasible to prevent and treat allergies.
Atopic individuals lack—besides Vitamin A and D—iron, which profoundly affects our immune system as deficiencies here render our cells hyper-sensitive - Franziska Roth-Walter, Frontiers in Allergy, 2022
Considering the relationship between rosacea and systemic inflammation, searching for root causes can be useful. One study linked homocysteine to more severe rosacea. Patients also had lower vitamin B12 levels. For instance, severe rosacea patients had a homocysteine of 13, while healthy controls had levels at about 10.
I know what you're thinking. "I'm obsessed with homocysteine," and you could be right!
Emerging therapies that may be worth a try
Menopausal hormone therapy may help with the structural skin changes, but research is mixed. The Keeps trial did not notice skin change differences after 4 years between women on MHT and not. But perhaps a longer duration show different results.
Newer research has found that topical nitric oxide is beneficial for aging skin. It helps to increase blood flow and collagen and decrease inflammation. If you haven't read about this magical midlife molecule, you can do so here.
According to an article in Dermatology Times discussing nitric oxide and the skin:
By reducing inflammation and increasing keratinization, nitric oxide also increases moisture and barrier functions of the skin. The reduction of subclinical inflammation aids in the prevention of scar formation. It is safely applied on open wounds which yields added anti-bacterial activity, maximizing healing and minimizing scar formation.
The product used in the studies is N101.
Directly applying estrogen on the skin can also provide benefits, but it may also get absorbed systemically. Scientists have discovered MEP a non-hormonal estrogen receptor agonist (NERA). It interacts with estrogen receptors in the skin but is broken down to inactive metabolites.
In one study after 14 weeks, women who took MEP had improvements in skin dryness, dullness, thickness, laxity, erythema, atrophy and fine lines.
"We know that the presence of estrogen stimulates receptors to increase on the cells, but MEP similarly did this. So you could have a woman who's been postmenopausal for five years, give her this product and she can actually reform estrogen receptors on her fibroblasts," says Dr. Berson, a dermatologist in private practice in NYC in this article on Dermatology Times.
The MEP product used in studies is Emepelle.
Low-level light therapy or photobiomodulation has been around for decades. It penetrates the skin, stimulating the production of collagen, elastin and hyaluronic acid. Low-level light therapy like red light therapy or near-infrared stimulates skin cells for rejuvenation.
According to a 2022 systematic review and meta-analysis, most studies show benefits to skin.
the meta-analysis confirmed that LED devices have shown efficacy in treating acne vulgaris, herpes simplex, skin rejuvenation, and psoriasis.5, 7, 29, 44 Indeed, these clinical benefits are attributed to metabolism pathways, especially by altering intracellular pathways based on photo-biochemical reactions
If the light is at too high a level, it can do damage, so be sure to work with a health professional or follow the instruction on home devices. Here is a dermatologist review of different devices.
Many of these newer items are expensive, but hopefully in time the price will come down. Of course, there is the tried-and-true hyaluronic acid found in many moisturizers. And taking collagen supplements is an evidence-based option.
Love the midlife skin you're in
There's no doubt that our skin changes at midlife and beyond. Being armed with knowledge helps as you seek professional help, look for underlying causes, or choose products to use at home.
None of this is meant to replace medical advice but to inform. What has been your biggest skin challenge?
Thanks for reading Midlife Strong! Subscribe for free to receive new posts, get my biomarker guide, and support my work.